Trip to Cancun
We're usually planners, but this trip was booked 2 days prior to leaving. Justin had 3 weeks off before starting his new job so we were enjoying time at home together and checking things off our To Do list. I may have had to twist his arm to convince him that spending money on a getaway right now would be a good idea but I'm happy to report, he was super glad we ended up going. Ben is in such a fun stage right now and we had an absolute blast. Forecast called for rain everyday but it only rained for about 15 minutes one day.
We randomly came across this resort (http://grandresidencesrivieracancun.com) when we were looking for last minute deals and I can't recommend it highly enough. We almost didn't book it because the reviews somehow seemed too good to be true and we had never heard of it…but it was incredible. We would go back in a heartbeat. If you're looking for a busier resort with shows at night I wouldn't recommend it, as it is a quieter resort. If you prefer a more peaceful vacation though with amazing food, out of this world service, and gorgeous rooms/views, I would absolutely check it out. They also have a kids club and there are some activities that you can enjoy in the day. We did a last minute upgrade to their Beachfront One Bedroom Master Suite, and I can honestly say I've never seen a hotel room like it before. 1800sq ft for a room at a resort miiiiiight be a tad more than one needs:p but it was pretty spectacular.
For a 4am wakeup he was super alert and more than happy to walk through the airport. At the last second we decided to leave the stroller at home and we definitely made the right decision. One less thing to lug around and he surprised us with how well he did without it.
If you've been in Terminal 1, you've likely seen this structure…it kept him entertained for a solid hour.
The pilot waved for him to come in which was so nice. He was absolutely mesmerized and asked question after question.
He said his monkey was hungry so he fed him a snack;)
The hotel shuttle that picked us up gave him a scented towel and he loved every.single.second of the pampering. He is definitely Justin's child.
I need to start a collection of all the photos I have of him randomly giving the finger. From birth to now, there's likely about 10 of them.
Welcome shots. Whyyy not.
Justin and I didn't know if we should laugh or cry when we walked into the room and saw this view. Absolutely unreal.
He said Justin didn't do it gentle enough:p
Beach side food was dynamite.
I can honestly say if it weren't for Ben we would likely miss the sunrise every morning. It was such an incredible way to start the day.
The drapes provided endless entertainment this trip.
Peek a Boo in the laundry basket.
He was so good about using the toilet this trip which was amazing to see. And I'm forever grateful to Justin for picking up my camera and taking a photo of it. I'll remember and cherish these moments just as much as the ones in the sun and water.
"Not yet Mommy". Over and over on repeat;)
Ahhhhh the footprints get me all emotional.
Ben was petrified of the lobster shell…it might of had something to do with Justin pretending he ate Marshall from Paw Patrol though;)
They had Apple TV so we decided to have a movie night. Ben chose Madagascar based on the photo and loved it.
They brought around popsicles daily that were to.die.for.
Justin might just have to start a part time photography gig.
Playing in the sand while we eat dinner.
Breakfast with a view. Absolute heaven.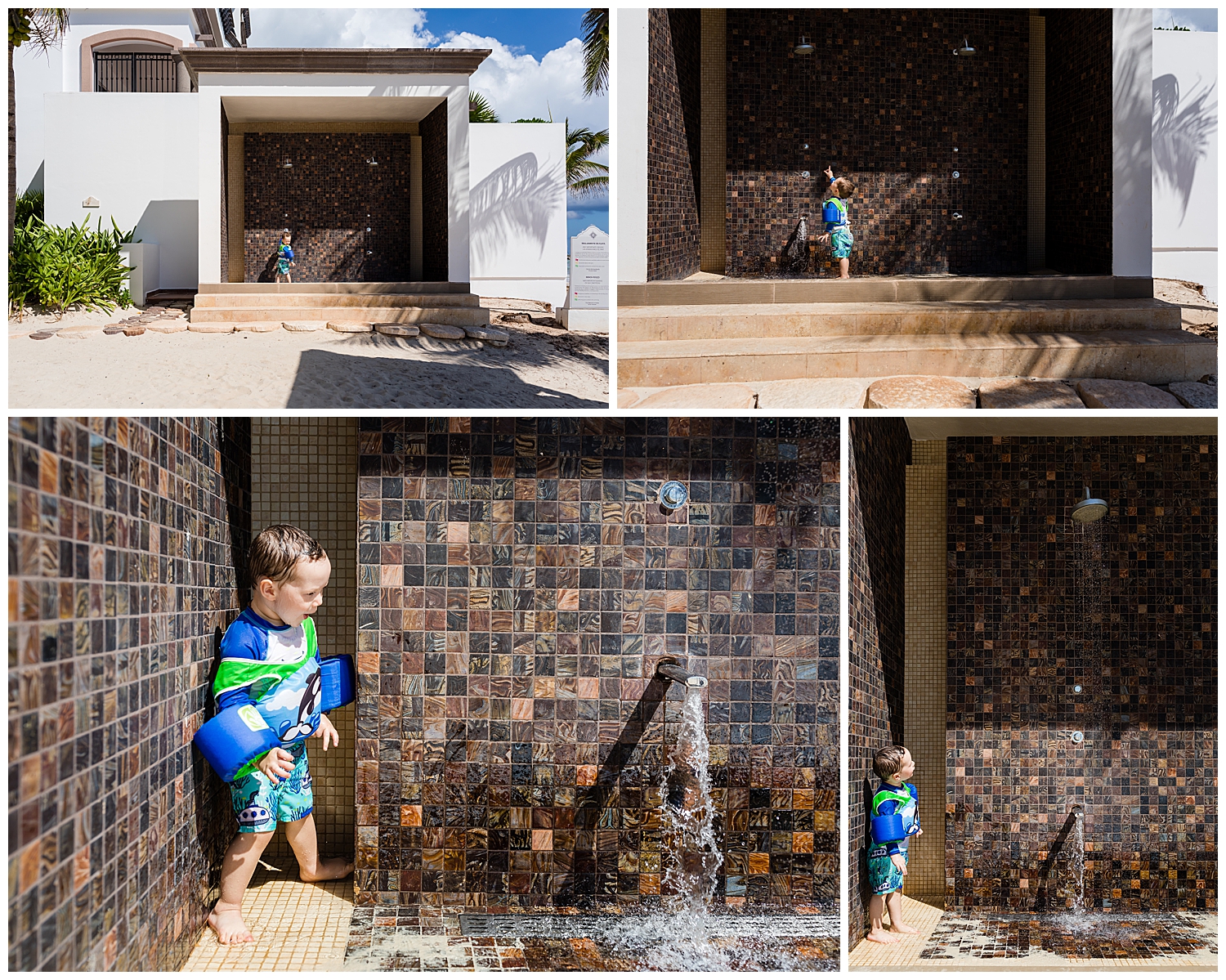 This.book. It's pretty deep, but if you enjoy personal development books and are open…highly recommend.
He asked to carry my bag for me…couldn't get enough of how he left his arm raised like this the entire time.
First try of a Virgin Strawberry Daiquiri. We had to pull it away because he wouldn't even come up for air…non.stop.slurping. #sugarhigh
Wouldn't sleep on the plane, but as soon as we got in the car to head home…lights out.